Innovative Living Spaces
XO Residences Palma
The Building
Exceptional architecture through a synchronicity of form, function, beauty and practicality – creating an iconic landmark.
Apartments

84

Locations

11-13 AVENIDA MÈXIC, NOU LLEVANT

Architect

CMV ARCHITECTS

DESIGN & DEVELOPMENT

XOJAY

Completion

2022
The arrangement and layout of the apartments maximises natural light through floor-to-ceiling glass walls, opening to elegant private balconies, which provide residents with outdoor living areas to enjoy Palma's mild climate. The striking inside-outside concept creates open living spaces with electric panorama windows (*where applicable) and integrated outdoor living spaces, together with beautiful roof terraces and gardens.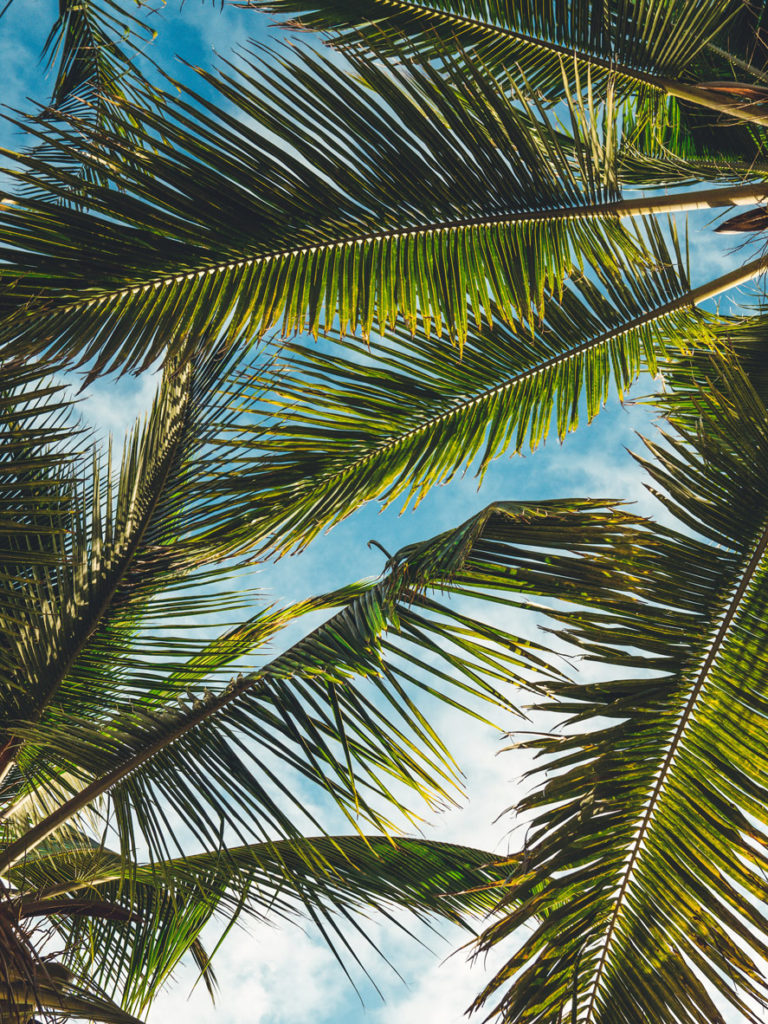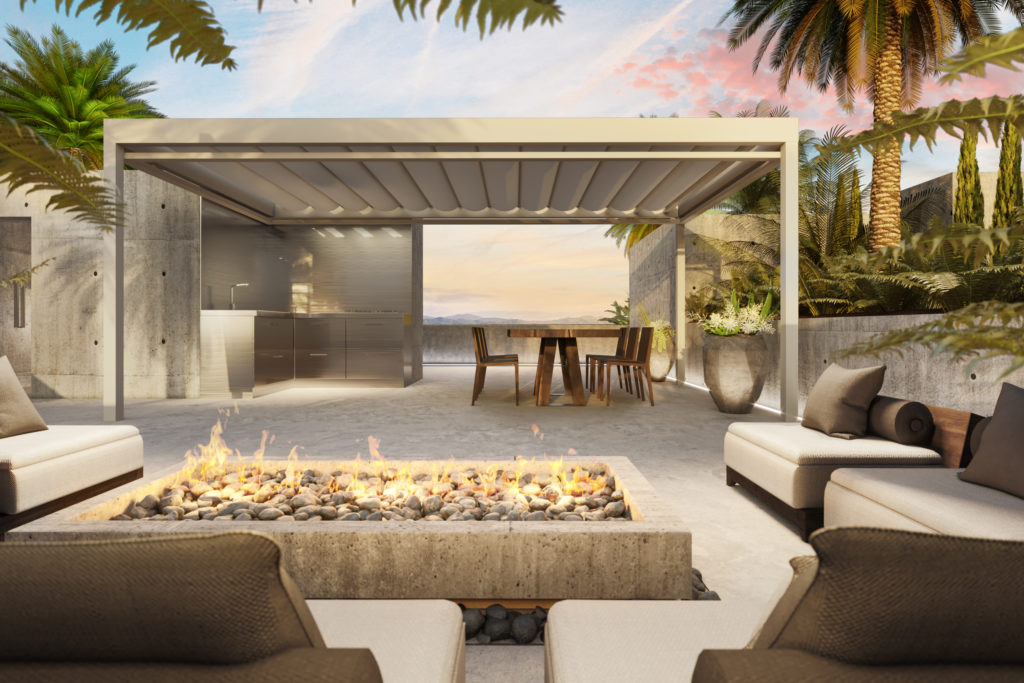 Design Line
Choose your style at the XO Residences Palma
We provide homeowners with complete and inspirational interior design lines that represent the overall modern cubic style of the building and deliver an exceptionally beautiful space. The choice between the three lines creates unique properties which offer their own individual feel, using the finest quality materials. 
The XO Residences Palma offer a unique opportunity for individualisation with tailored upgrade packages. Every flat can be upgraded with built-in speakers, security packages, rooftop kitchens*, partner showers and more.
Raw
A dynamic blend of exposed and industrial, highly functional and durable concrete surfaces that fuse into a very stylish environment. Full of character with a hint of industrial flavour, bringing a subtle and sophisticated edge to your interiors.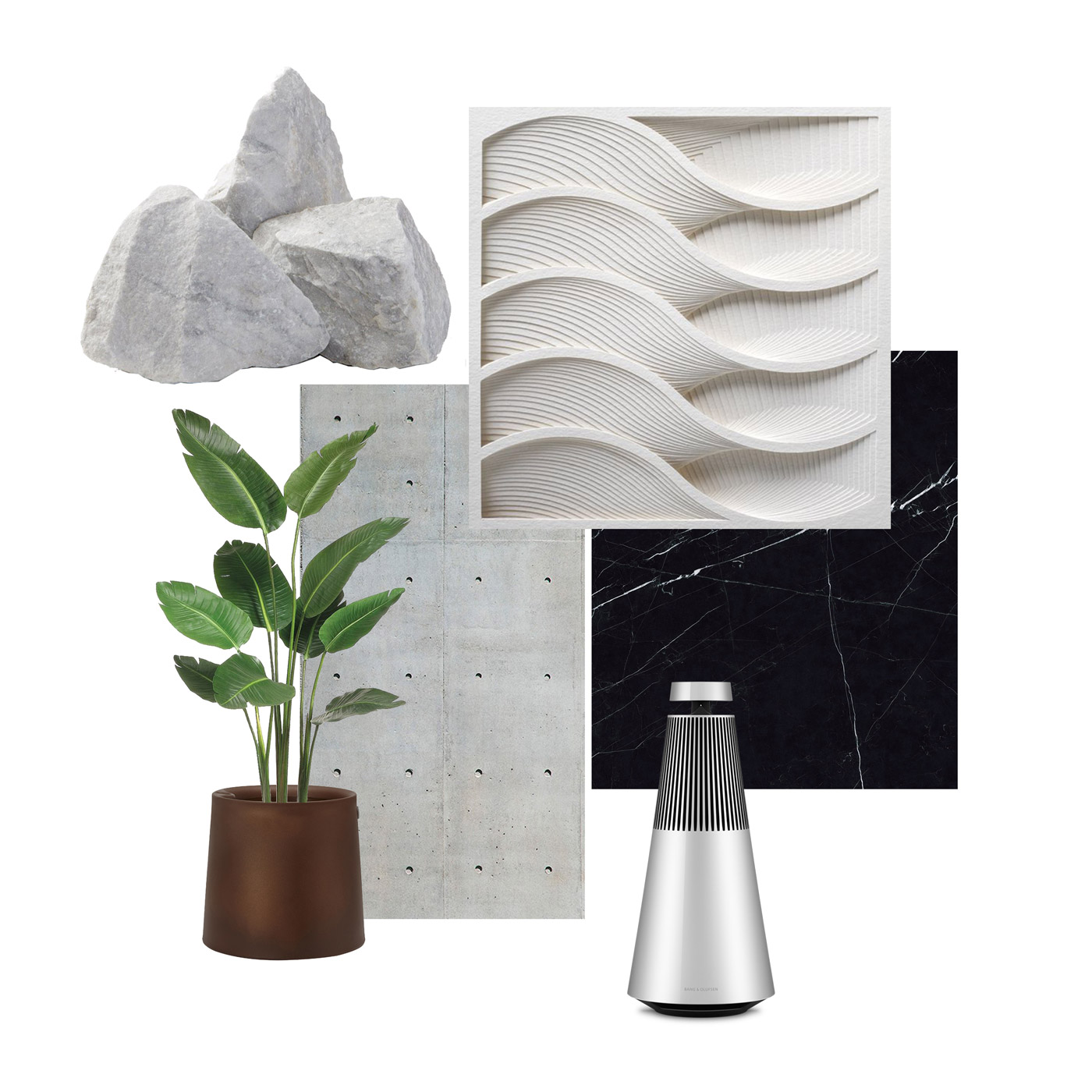 Island
White wooden surfaces embraced by creme polished concrete flooring define the Mallorquin and Mediterranean style of this line.  Minimalist clean lines create maximum versatility for a bright and charming space, blended with organic moss walls that require no gardening.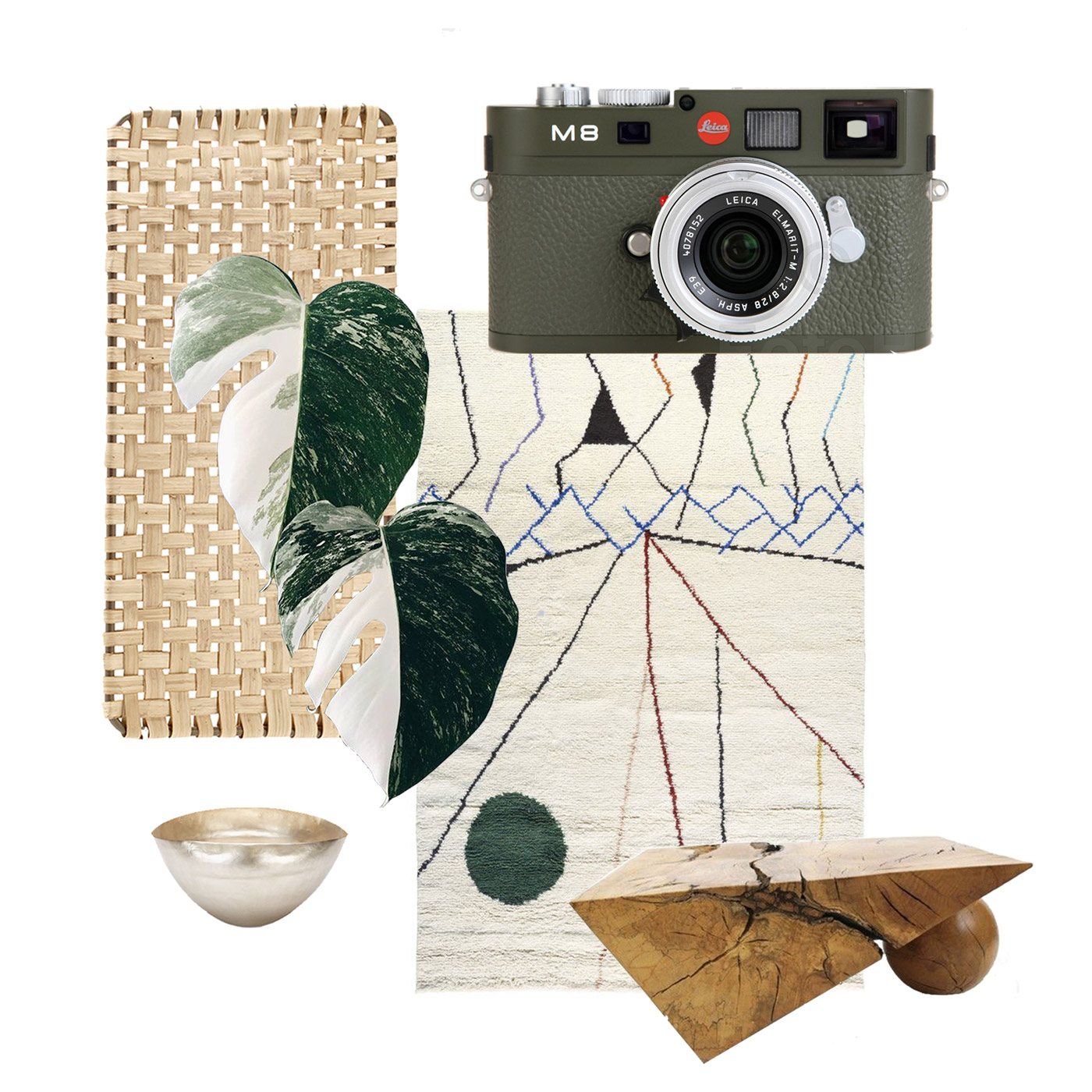 Vanity
Classic contemporary marble pairs with timeless warm parquets, giving your interior spaces a glamorous stamp of modernity, while adding a touch of elegance to your urban home.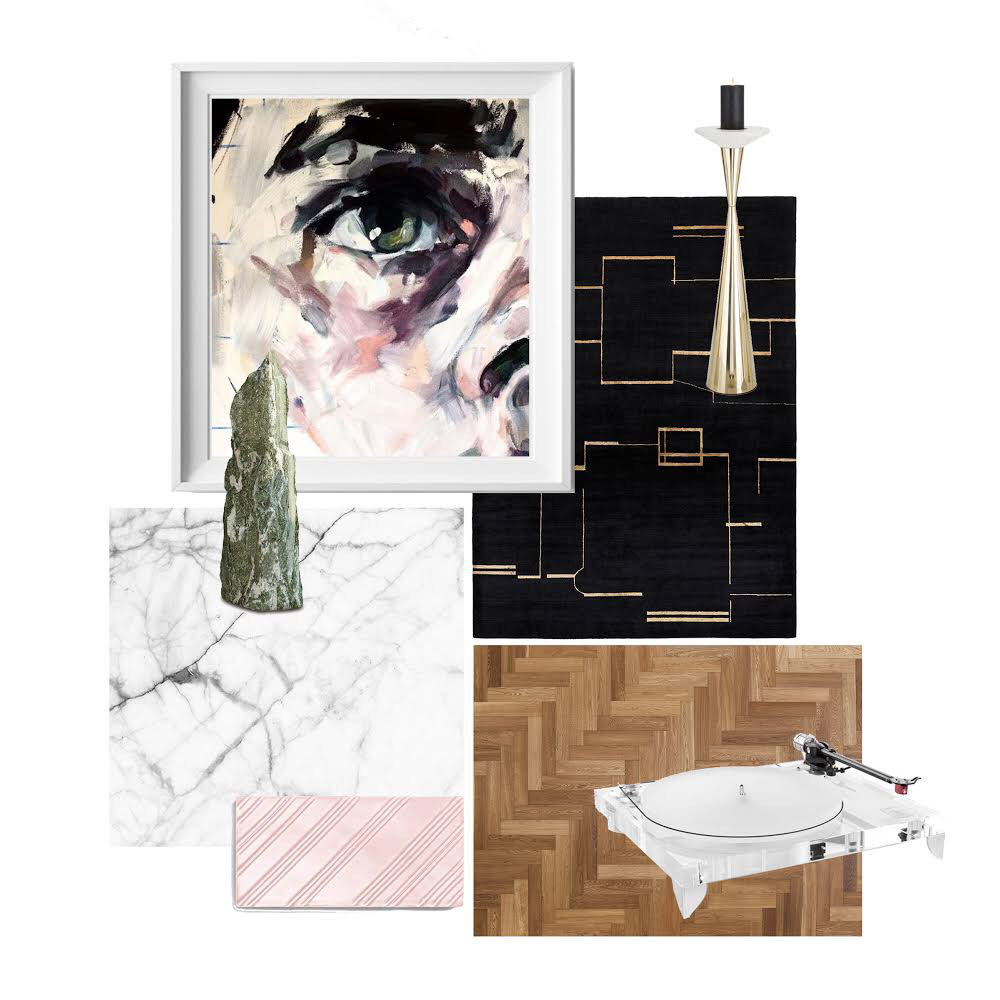 More than just a place to call home
Our community amenities are designed with fun, convenience and rejuvenation to make the most of your everyday living experience
Amenities
Taking living on the island to new heights
Relaxing and unwinding through integration and engagement within the natural splendour of Palma.
Boasting the best private amenities exclusively for residents' use, all situated around an inviting multi-level garden lounge adorned with palm trees, vegetation, down lights and fire pits. A true urban Oasis.
Featuring indoor/outdoor state-of-the-art active fitness spaces with cutting-edge gym equipment, a large pool and ultimate luxury with elegant sunbeds, sauna, steam room, showers and changing rooms. A stylish pavilion with high-tech security system and concierge, extensive underground parking, and the XO Lounge stocked with excellent facilities and services, including on-site cafe/bar, hang out areas, workspaces and more.
The Pavilion
XO Lounge
XO Wellness
Pool & Solarium
High-Tech Security System
Concierge
Underground Parking
Pool & Solarium
Pool & Solarium
XO Lounge
XO Lounge
Roof Terrace
Pavillion
Sauna & Steam room
Roof Terrace
Sauna & Steam room
Gymnasium
Pavillion
Living beyond green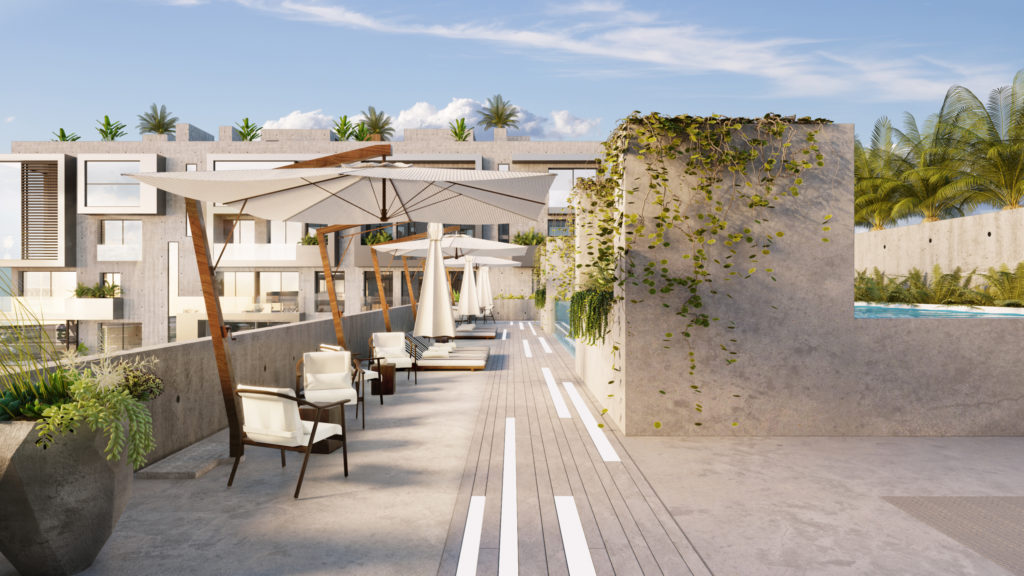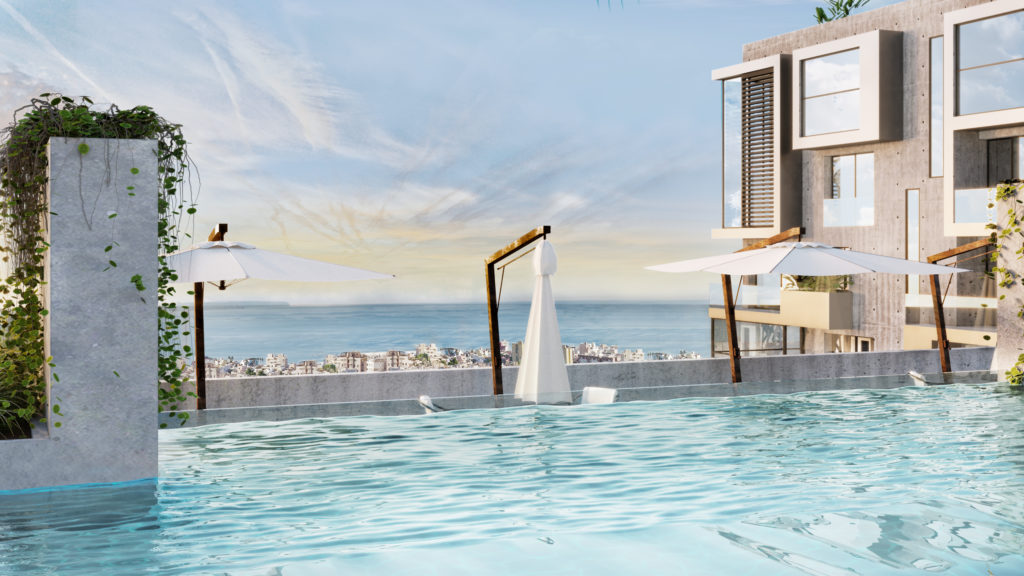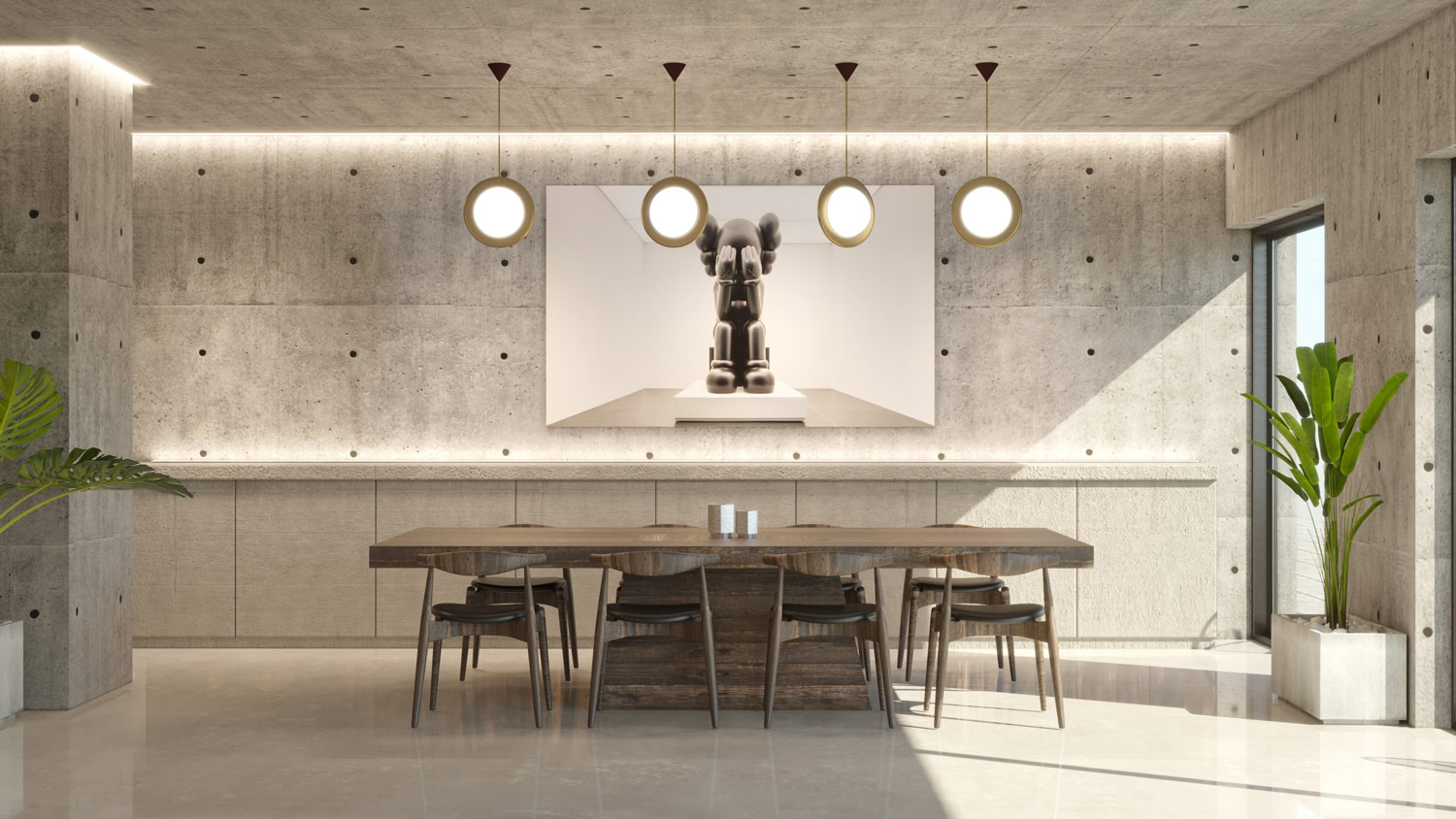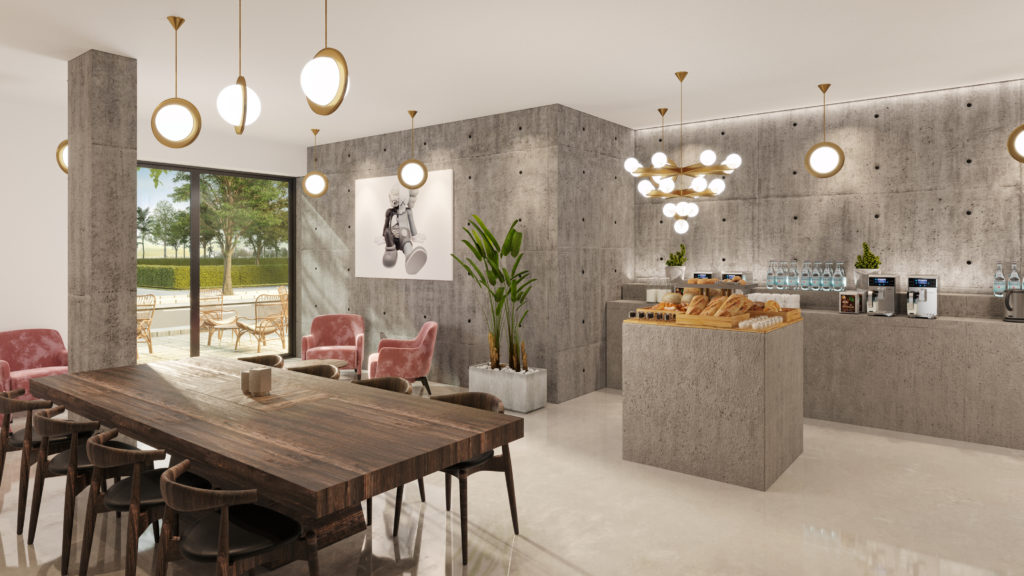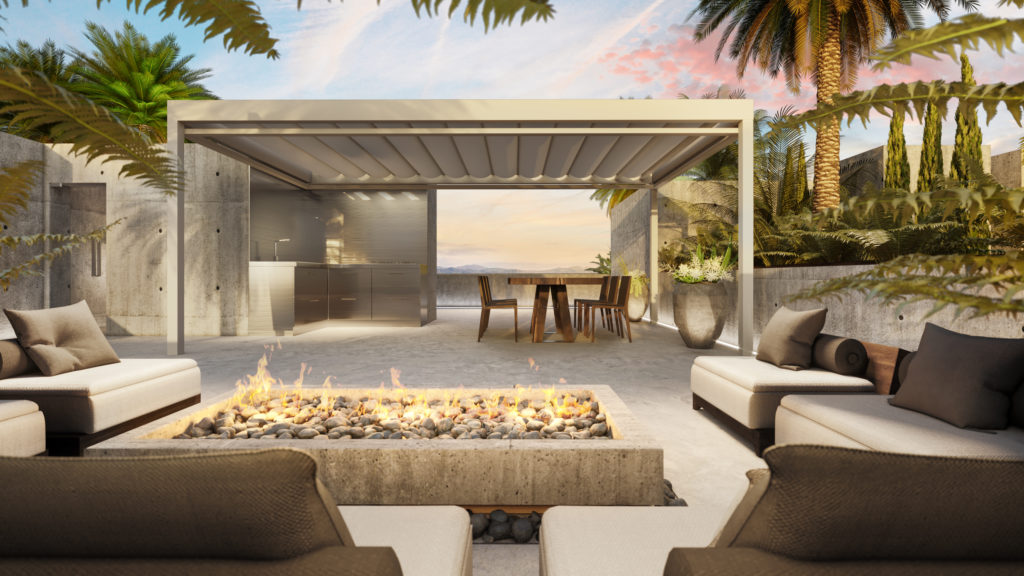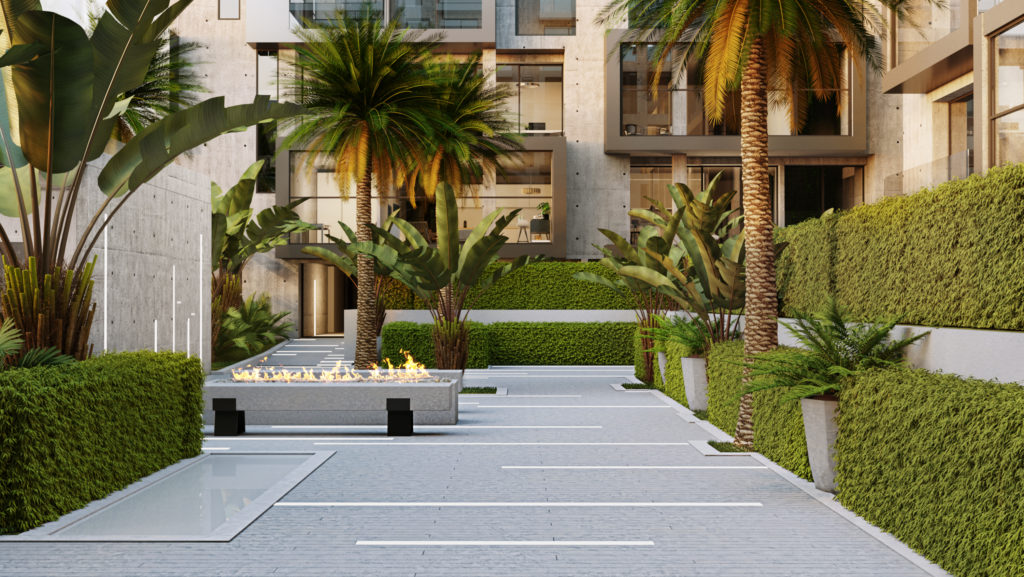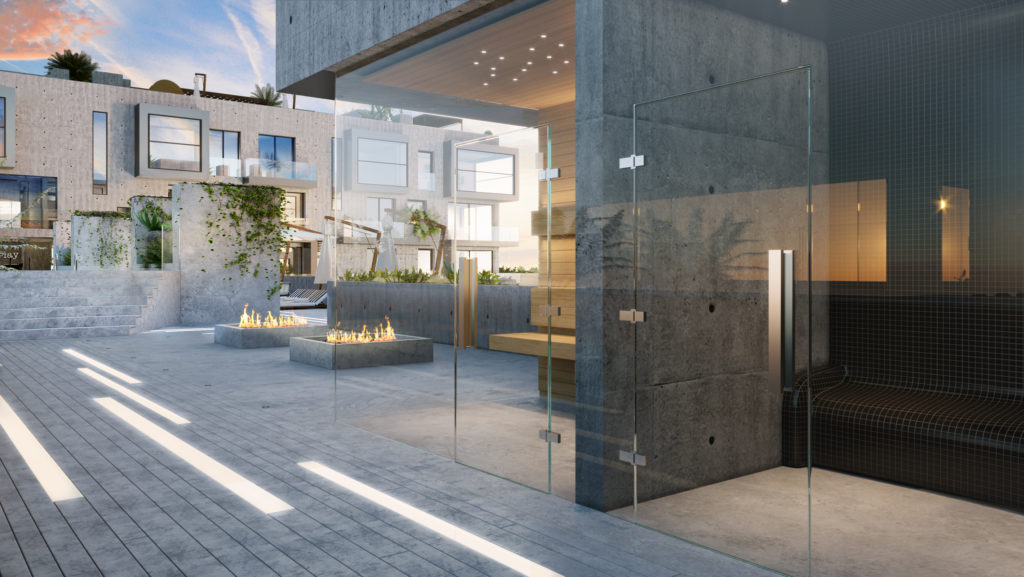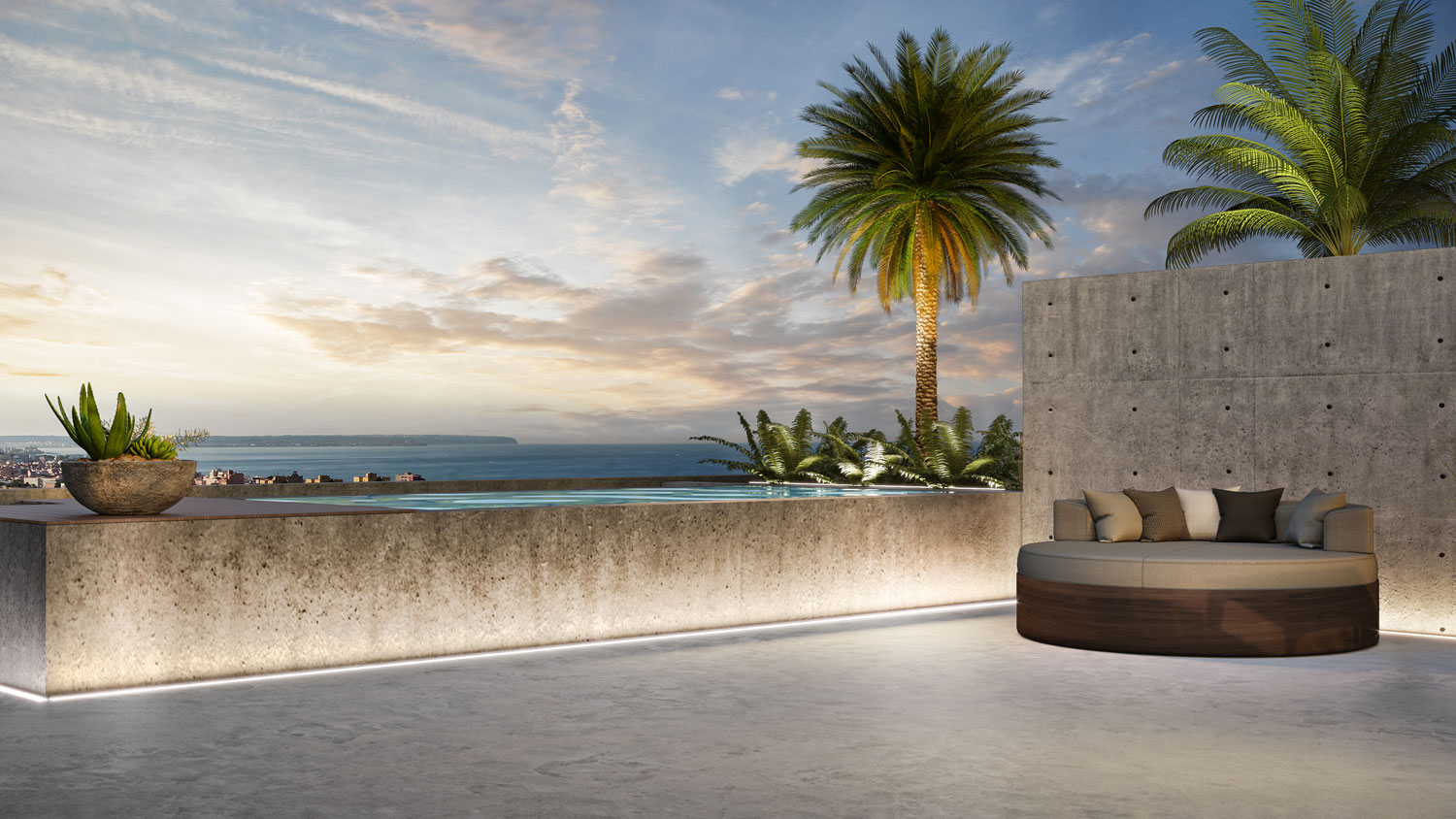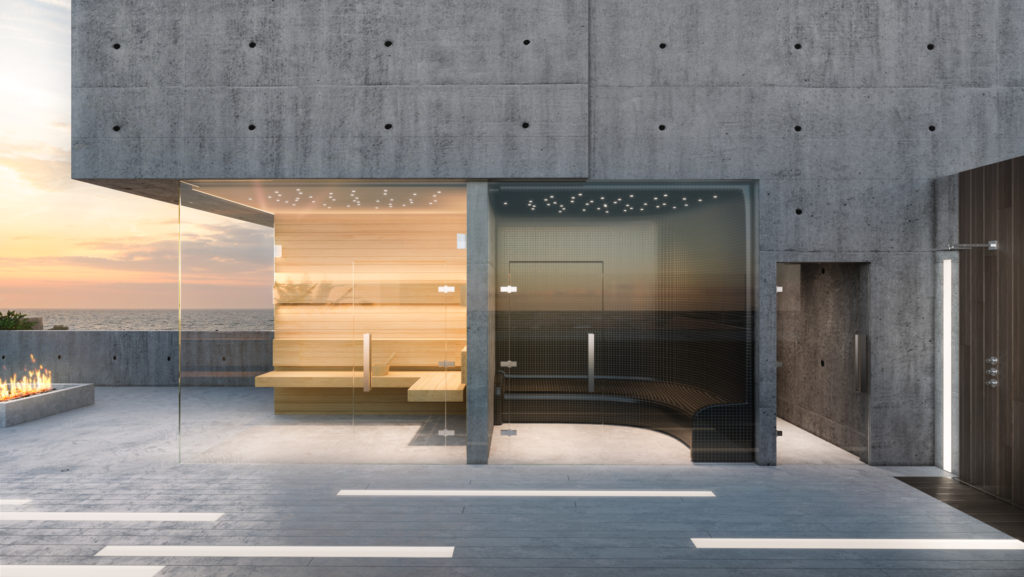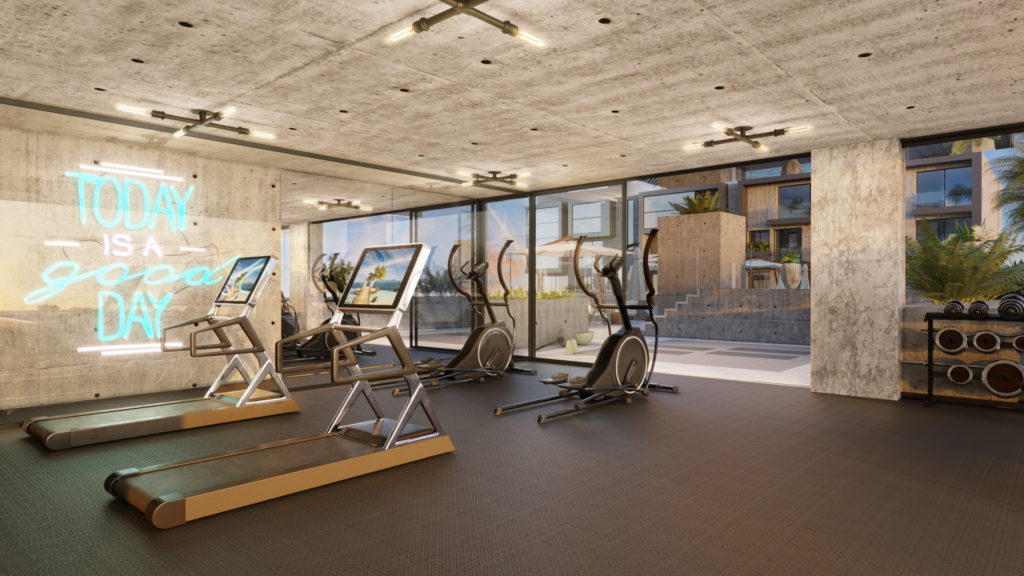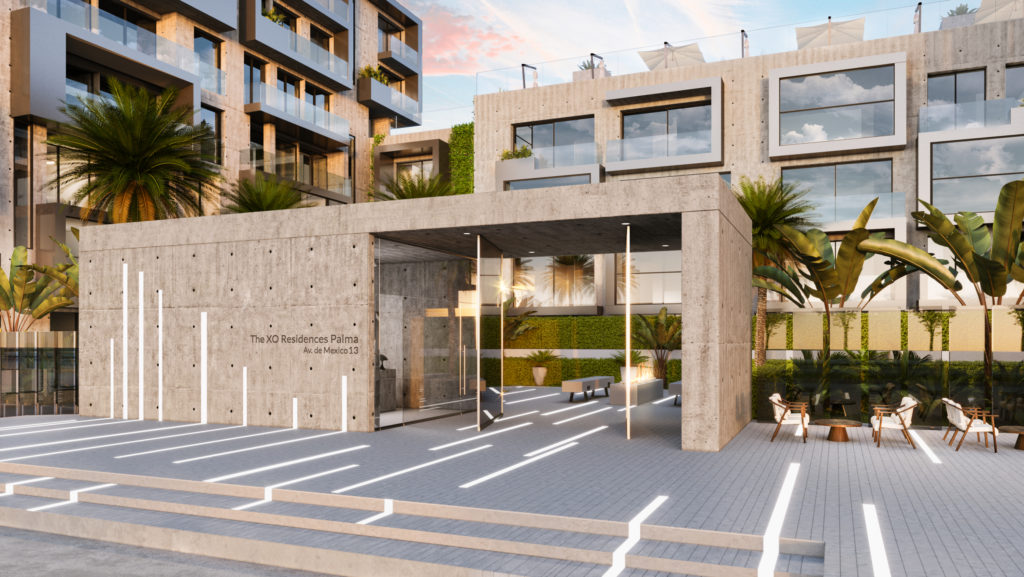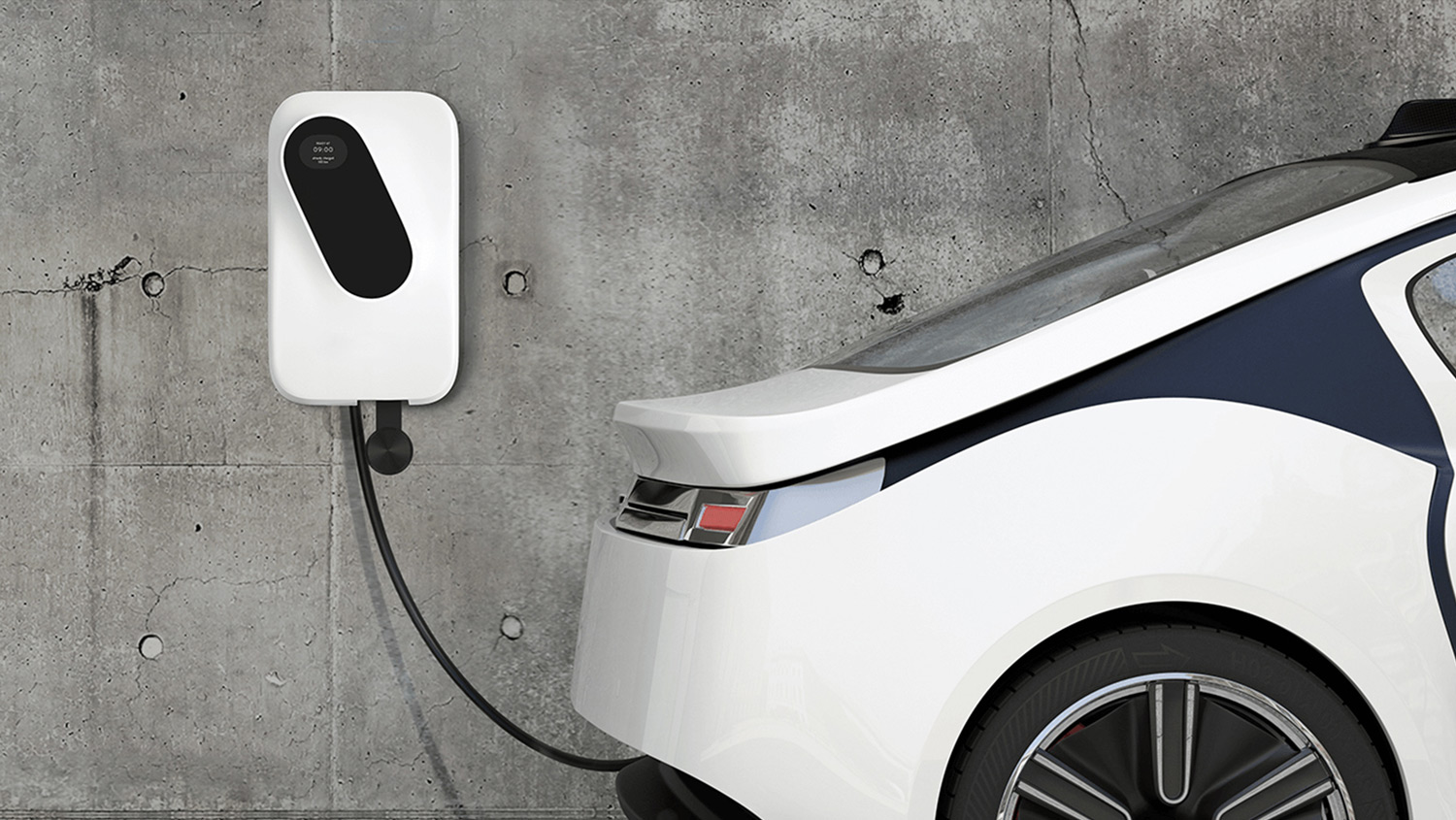 Floor plans
Unique floor plans where no two spaces are the same
84 stylishly modern, newly built apartments which allow you to optimise your living spaces to suit your needs.
Each home is comprised of a comprehensive distinct layout enhanced by floor-to-ceiling glass walls and electric windows (*where applicable), offering breath-taking views of the Mediterranean.
1 Bed Apartment Example (3A)
Open plan kitchen combined with living space area. Outdoor balcony with sliding or electric doors (*where applicable). Large sliding bedroom door creating an urban studio feel. 
BUILT SURFACE + COMMON AREAS

93.87

INDOOR USEFUL SURFACE

63.22

NO. OF BEDROOMS

1

NO. OF BATHROOMS

1
2 Bed Apartment Example (5B)
Open plan kitchen combined with living space area. Duplex flat with extensive glass facade and incorporated electric windows. Spiral staircase over 3 floors including roof terrace. See through glass Jacuzzi (*where applicable) and outdoor lounging area. 
BUILT SURFACE + COMMON AREAS

230.50

INDOOR USEFUL SURFACE

131.56

NO. OF BEDROOMS

2

NO. OF BATHROOMS

2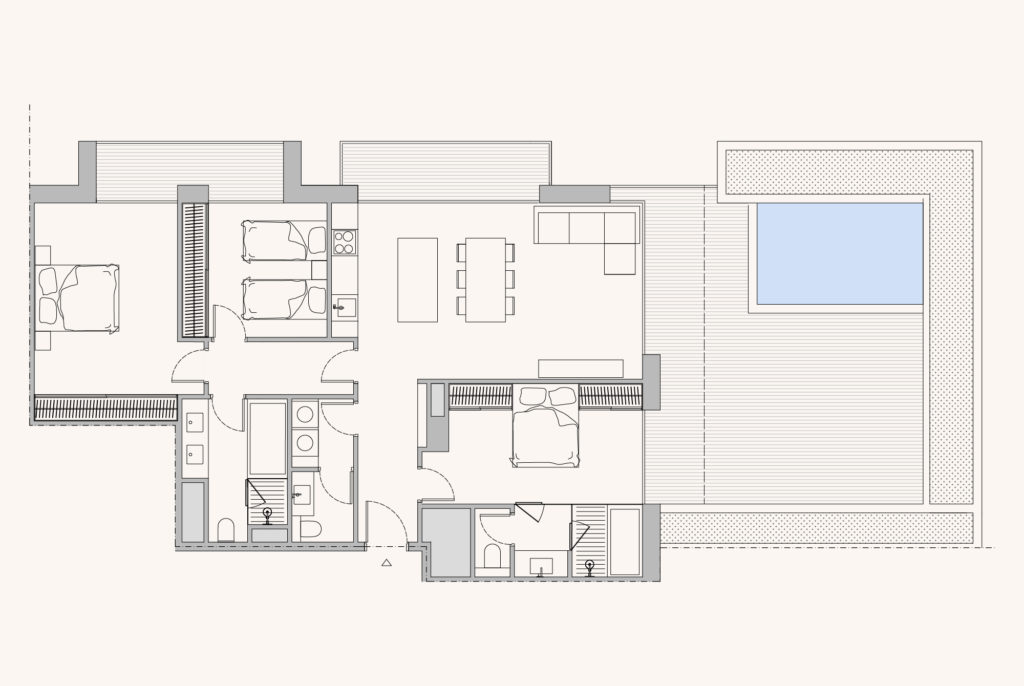 3 Bed Apartment Example (4J)
Open plan kitchen combined with living space area opening to extensive glass sliding doors with electric windows (*where applicable). Frontal and back private garden area creating a large inside-outside feel.
BUILT SURFACE + COMMON AREAS

228.78

INDOOR USEFUL SURFACE

93.32

NO. OF BEDROOMS

3

NO. OF BATHROOMS

2
4 Bed Penthouse (6I)
Open plan kitchen combined with living space area. Interior staircase with access to private roof terrace with large lounging area and pool. Large bedrooms including study. 
BUILT SURFACE + COMMON AREAS

418.80

INDOOR USEFUL SURFACE

148.82

NO. OF BEDROOMS

4

NO. OF BATHROOMS

3
Explore for yourself
Immerse yourself in the panoramic views of the XO residences sensing the spaces atmosphere on an extraordinary viewing experience.
Take the tour!
Sustainability
At XOJAY we believe that true quality equals sustainability
We incorporated cutting-edge energy saving technology and went the extra mile with our geothermal and solar energy systems. This positions us as one of the most energy-efficient residential buildings, comprised of the most innovative commitments to green building practices. With cutting-edge energy saving technologies and outstanding building qualities that save you money and help the environment at the same time.
Geothermia
Solar energy powering public spaces
Rain water collection and processing
Sun protection glass
Sun protection shutters
Central cooling/heating
Electric car charging, bicycle storage
Sustainable building materials
Sustainable & innovative building process
Location
Discover the Residence's charming surroundings
Located on the south coast of Mallorca, Palma is an important holiday resort and commercial port. The city offers the island's best choice of hotels, restaurants and widest choice of entertainment. Despite having become a modern, vibrant city, Palma has managed to retain its old town and its ancient culture charm.
Portixcol is a short walk away and never fails to impress with its timeless painteresque elegance.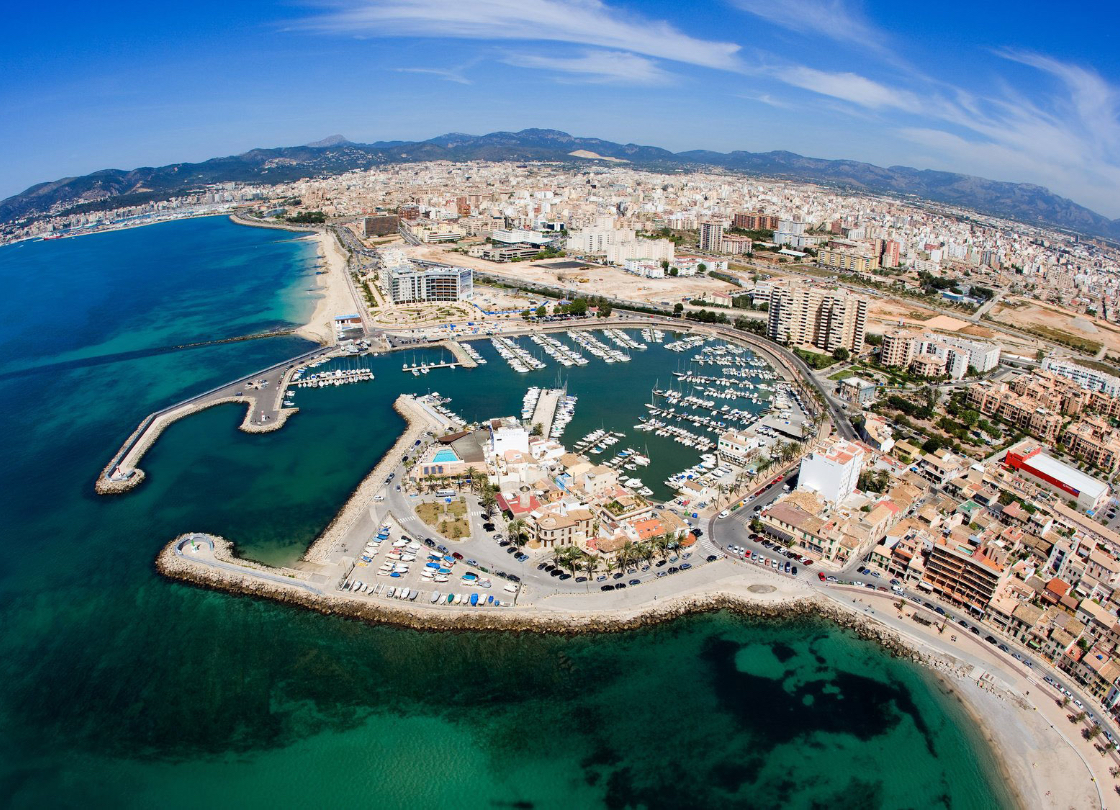 Find out more
Register your interest and we'll be in touch
Our dedicated sales team is ready to discuss your interest further.
Alternatively, you can view The XO Residences Palma model and explore the materials at XOJAY showroom.
XOJAY Showroom
Joan Maragall 17-G, 07007
Palma De Mallorca
Opening Hours
09:00 – 17:00